Kurt Dahl: The LawyerDrummer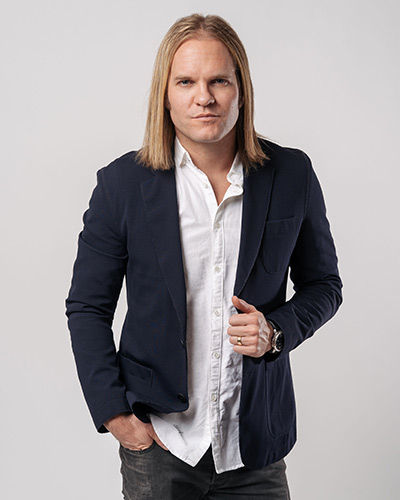 I've been fortunate enough to work with some of the most talented and successful musicians, managers, record labels, publishing companies, and agents in the country, both big and small.
As a musician, I've toured North America frequently with my band One Bad Son, scored five top 10 singles and a number 1 song, released 9 albums with various artists, and have worked closely with major industry players like 604 Records, The Feldman Agency, Frontside Group, Strut Entertainment, and Hive Management. We've toured with Def Leppard, Shinedown, Judas Priest and in 2019, we shared the bill with The Rolling Stones.
As a lawyer, I was an Associate at D'Eith and Company Entertainment Law for three years, providing comprehensive legal advice to a wide array of music clients throughout Canada and the US. I joined the team of experts at Murphy and Company in 2013, and have expanded my practice to include all aspects of the entertainment industry, with a focus on music, film, television, and technology.
As an academic, in 2009 I successfully defended my Master of Laws (LL.M.) thesis on the future of the music industry, and how musicians will continue to earn a living in the digital age. The entire thesis is available for free under the "Resources" page. I also obtained my Juris Doctorate (J.D.) and Bachelor of Commerce (B.Comm) degrees from the University of Saskatchewan. I am currently a member of the Dean's Advisory Council for the College of Law at the University of Saskatchewan.
As a board member, I have served on the Board of Directors for SaskMusic for 6 years, working with fellow musicians to help them obtain grant funding, deal with legal issues, and effectively develop their careers. In 2016, I was excited to be elected President of SaskMusic. I'm honoured to be a voice for musicians in this province and around the world. In 2017, I was elected to the Board of Directors for the Western Canadian Music Awards.
As a writer, my articles on the music industry have been published by Canadian Musician, Canadian Lawyer, DRUM Magazine, SOCAN Magazine and dozens of other industry publications.
Music is my life, and the music industry is what I know. I look forward to sharing that knowledge with you, and making the most of your career.
Highlights
Partner at Murphy & Company LLP. Currently operating offices in both Saskatoon and Vancouver.
Current President of SaskMusic.
Guest lecturer and speaker on Entertainment Law at universities and music conferences across the country.
Recognized as an industry leader in Entertainment Law by Canadian Lawyer in 2019.
Current board member of the Western Canadian Music Awards and BreakOut West.
Received Master of Laws degree in 2009 with thesis topic: the Future of the Music Industry, and how will musicians continue to thrive in the digital age.
Received a Juris Doctorate degree in Law in 2005 and Bachelor of Commerce degree with a major in Finance in 2004.
Published author in the area of Entertainment Law both nationally and internationally, in publications such as Canadian Musician, Canadian Lawyer, Drum Magazine, SOCAN, CBC, and more.
Current member of the Dean's Advisory Council for the University of Saskatchewan College of Law, helping guide the direction of the college.