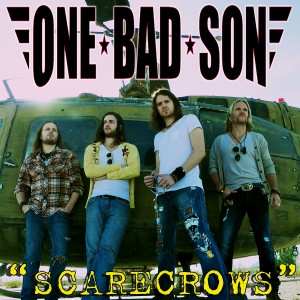 One Bad Son – Scarecrows
The band and I are very excited.  We have been informed that 'Scarecrows' made a big jump today and hit #16 across the country!
It's the highest chart position of our 8-year career, and we couldn't be happier. It's nice when years of hard work starts to pay off.
Click here to see the entire chart
Follow Up:
Our self-titled third album was released by 604 Records on September 25, 2012. The album was recorded in Vancouver and produced by Danny Craig, drummer for Canadian band Default. Frustrated with the lack of response from radio stations across Canada, the band decided to show up at various rock stations in Western Canada to play their song 'Scarecrows' in person.
To the band's surprise, the tactic worked and ended up taking them from Vancouver to Ottawa, and resulted in a surprise hit with 'Scarecrows', which went to No. 5 across the country.[8] The band returned home to Saskatoon to shoot the 'Scarecrows' video, which featured local fans and friends as extras.[9][10]